Haverhill, MA – September 2, 2022 – IMS Software, ModuleWorks and Mastercam have collaborated on the development of IMSce for Mastercam. The software solution extends the Mastercam machine simulation with G-code parsing and verification for diverse machine tools and controllers.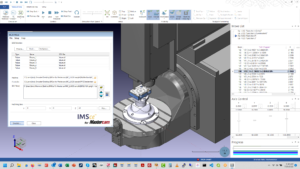 IMSce for Mastercam combines IMS G-code emulation with the ModuleWorks simulation and post processing technology to provide a G-code parsing solution that connects directly to Mastercam. The solution enables Mastercam users to simulate and verify G-code including controller variables, subprograms, expressions and canned cycles for a wide range of machine tools before the workpiece is mounted on the machine.
"There is big demand for G-code simulation and it's great to see how the technologies of different companies are being combined to create value-adding solutions for the industry."
Julia Meyer-Hendricks, Head of Business Development – Digital Manufacturing at ModuleWorks
"Integrated G-code simulation and verification is a major step forward in complex multi-axis machining, improving code quality and dramatically reducing overall programming time versus traditional standalone solutions."
Dan Wrenn, President/Co-founder at IMS Software
"Mastercam is proud to partner with IMS Software and ModuleWorks. We are excited to work together with these industry leaders to offer G-code simulation running inside Mastercam for a wide range of machine tools and controls.  As a result, Mastercam users can leverage digital twin technology to simulate and validate their CAM programs, particularly for multiaxis applications, prior to running on their CNC machines."
Stas Mylek, Partnership Program Manager at Mastercam
About IMS Software
IMS Software, Inc., founded in 1989, is a recognized leader in providing NC post processing, verification and simulation solutions and services to companies seeking a competitive advantage in the manufacturing industry. With headquarters in Haverhill, MA, IMS solutions are sold worldwide, addressing the needs of companies of all sizes, primarily in the automotive, aerospace and defense, general manufacturing and machinery, and electromechanical industries.
About ModuleWorks
ModuleWorks is the leading software component provider for the digital manufacturing industry. With over 200 employees and 1000 person-years of software development, ModuleWorks' expertise in toolpath creation and simulation is recognized throughout the industry and its software components are already optimizing the performance and quality of over 500,000 installed seats of CAD/CAM and Mastercam around the world. From standard products to exclusive development projects, ModuleWorks helps companies to bring their vision of Industry 4.0 to life. With its comprehensive portfolio of cutting-edge software components, ModuleWorks enables its customers to optimize their CAD/CAM solutions and connect to CNC/MTB systems to increase their competitiveness and help them Get There Faster.
About Mastercam 
Founded in 1983, CNC Software, LLC is headquartered in Tolland, Connecticut, with corporate offices in China. The company develops Mastercam, a suite of CAD/CAM software created to reduce production time and expense with efficient machining strategies and advanced toolpath technologies like Accelerated Finishing™ and Dynamic Motion™. Mastercam is the world's #1 CAM software, with more than 284,000 installations in industries such as moldmaking, automotive, medical, aerospace, consumer products, education, and prototyping. It is distributed through an international channel of authorized Mastercam Resellers in 75 countries, providing localized sales, training, and support for 2- through 5-axis routing, milling, and turning; 2- and 4-axis wire EDM; 2D and 3D design; surface and solid modeling; artistic relief cutting; and Swiss machining. For more information, visit www.mastercam.com.